by Jane McConnell
OSDU Management Committee Member / O&G Data Architect, Teradata
"Except when you don't. Because, sometimes, you won't."  I don't think there will be a lot of "in the real world" travelling this year – not until we get a vaccine.
But still, Dr Seuss gives some of the best advice in the world, and he also says:
"You have brains in your head. You have feet in your shoes. You can steer yourself any direction you choose."
Which I take to mean:
Now that the OSDU Data Platform gives us this solid foundation for our data management solution, what exciting things shall we do with it? 
There are so many ideas about where we might want to take this.  And one of the great things about being a member of the OSDU Forum is that you can help steer.  This is a community driven project.  We can join a committee and work on the design of a new piece of functionality or a new requirement.  We can contribute to the common code and enhance the platform, or we can write optional add-ons that will enhance the value of the platform.
So – what do YOU think we should we do next?
Should we double-down on data quality workflows and dealing with master data management?  Should we work on removing barriers to moving legacy applications to a cloud platform?
Before we get all overwhelmed with the possibilities, let's jump back to 2015 again, and look at what I originally posted as the follow-up to "10 Things".  It's a little embarrassing to re-post this one because some of the technology choices are so off.  This must be what it feels like to be one of those futurists who writes articles about how everyone will be travelling around in flying cars in 5 years' time!  But I think it is worth restating the effectiveness of the "aggregation of marginal gains" and looking at how some seemingly small or insignificant steps could bring huge improvements for our company's performance at a higher level.
Enjoy.  And try not to laugh at my misplaced belief in Hadoop….
Why 1% is Crucial to Your Subsurface Data Management Strategy
Published on June 24, 2015
In my last post, I got the 10 Things I Hate about Subsurface Data Management off my chest. And it's clear from that list that subsurface data management needs to change. But it's scary to admit that you need to make changes. So, let's take it a step at a time. Everyone's heard of the 80/20 rule and Stephen Covey's "big rocks" approach – but have you heard of "aggregation of marginal gains"?
This approach hit the headlines with the success of Team Sky (Great Britain's professional cycling team) in the Tour de France. When Dave Brailsford took the role of General Manager and Performance Director for Team Sky, he implemented a concept that he called the "aggregation of marginal gains" – making a 1 percent improvement in everything you do. He believed these small gains would together add up to remarkable improvement.
Brailsford started by optimising the things you might expect: nutrition, weekly training program, the ergonomics of the bike seat, and the weight of the tires. Then they searched for 1 percent improvements in areas that were overlooked by almost everyone else: the best pillow to optimise sleep, the most effective massage gel, the best way to wash their hands to avoid infection – they searched for optimisations everywhere.
Brailsford believed that if they could successfully execute this strategy, then Team Sky would be in a position to win the Tour de France in five years time. He got that wrong – they won it in three years.
So what's that got to do with subsurface data management? Well, when people talk about optimising company performance, they usually concentrate on the core activities and deliver "good enough" on the rest. But Dave Brailsford was talking about optimising all areas for excellence – wherever he found them. The smallest improvements within data management can have a large effect on the overall performance of our company.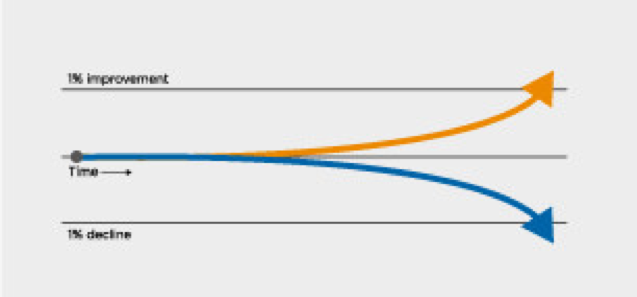 Figure 1: Aggregation of Marginal Gains
And this approach could have unexpected advantages in our cost-focused world. As Brailsford puts it: "You'll get more from a £900,000 rider with a coach than you would from a £1m rider without one." It's the same with data management. Data underpins any business, use it to your advantage.
Here are some 1 percent improvements you might consider making in subsurface data management:
Store your bulk data – seismic surveys, raw logs, core photos – in a Hadoop system so you have access to parallel compute power right where your data is – no need for separate application servers and the resulting I/O issues.
Keep metadata with your data at all times. One approach we have seen for raw data is storing the raw files together with their operational metadata in key-value pairs in Hadoop so they never get separated. When data is transformed from one format to another, consider tools like Loom to track the transformations.
Build a corporate store on an MPP database platform, so that as it grows you keep linear performance and your beautifully curated data store does not turn into an unusable data dinosaur.
Combine data stores wherever possible, removing the possibility of error through master data issues and alternative conversion engines, while also making analytical queries easier and faster.
Implement a discovery platform, so you are ready to run any analytics against any data. Then when the business comes up with an interesting data question that has been keeping them awake at night, you can help them answer it in days, not weeks (or months).
Incorporate text analytics on drillers logs, operations logs and maintenance logs and analyse in combination with the structured data. There are nuggets of gold in these text fields.
Automate a constant quality check on unit conversions and coordinate conversions across disparate systems.
Choose an area where lineage is lost today (user exports data to Excel to make calculations, then emails the Excel file, for example) and implement a better solution.
What's your first 1 percent improvement going to be?
Watch this space, for the next instalment when I will be sharing some information on what the OSDU committees are planning to prioritise as their 1 percent's.  And do get involved in the subcommittees and projects so that you get a chance to bring your own ideas to the table.
Jane McConnell Bio

Coming from an IT background, Jane fell into Upstream Oil & Gas with its specific data management needs back in 2000, and has been consulting, developing product, and implementing solutions in this area since.  She has done time at both Landmark and Schlumberger – in R&D, product management, consulting, and pre-sales – and in one role or another, she has influenced subsurface data management projects for most major oil companies across Europe. She chaired the Education Committee for the European oil industry data management group ECIM, and regularly presents at Oil Industry data management events. Along the way she's learned enough about geophysics, geology, and the world of hydrocarbon exploration and production to be dangerous.
For the last 8 years has been working in Teradata, a big data and analytics company, in their Oil and Gas Practice.  She is also serving on the OSDU Management Committee.
Jane is Scottish and has a stereotypical love of whisky (especially Islay malts).  She knits and reads almost to obsession.
You can contact her at jane.mcconnell@teradata.com, on the OSDU Slack channels, or connect on LinkedIn.