by Dean Samara-Rubio, Intel Corp.
The energy industry is in an active state of transformation. Operators are looking to adopt technologies to improve their agility, reduce costs, reduce their environmental footprint, and maintain and improve the cybersecurity and resilience of their operations.
The Open Group OSDU™ Forum was formed in 2018 and has grown to over 230 Oil and Gas operators and vendors. The OSDU Forum has already taken unprecedented steps to transform how the industry manages and uses the large and complex databases of subsurface data (seismic raw data and processed reservoir data). The OSDU Data Platform that has been created is being adopted to allow the use of the cloud for storage, processing, and visualization of this critical subsurface data. Using open APIs and interoperable modules, a level of agility, cost savings, and resilience is now possible that was beyond reach just a few years ago.  As the OSDU Forum evolves, it has looked to other phases of the oil and gas operations business – to drilling and production operations of wells – to drive even greater levels of efficiency, integration, and interoperability.
One of the exciting areas for open edge computing platforms is the production of natural gas and oil.  Natural gas has been in the news of late and is a critical fuel for the power utility sector as it transforms to lower a carbon footprint. It is critical for manufacturing, residential heating, and as feedstock for chemical processes.  In some estimates, there are as many as 5 million distributed sites globally where oil and gas products are extracted from the subsurface (i.e., well-sites). These well-sites vary in production rate, complexity, techniques for extraction (lift mechanism), and age. As the OSDU Forum addresses the business's production phase, they will improve the data interoperability and APIs for the production data by leveraging the cloud. However, they must also turn attention to the millions of widely distributed and remote sites with edge computing and communications devices if they hope to achieve meaningful cost savings, resilience, agility, and autonomy of their operations.
The OSDU Edge working group has been formed to bring innovations in Edge Computing for the Energy sector to the foreground. To support the evolution of the OSDU Edge architecture and APIs, Chevron, ExxonMobil, Red Hat, and Intel have led the funding and creation of the OSDU Edge Lab with initial member contributions from Aveva, Dianomic, Naonworks, Petrabytes, and Softdel.   We have received some hardware contributions from non-member companies including Axiomtek, Lenovo, OnLogic, and Winmate.
At the same time, the operating companies and the energy sector are shifting and expanding into alternative energy resources, including wind, solar, and geothermal. These resources share some characteristics with the well sites in that the production sites are numerous, widely distributed, and often remote (albeit producing electricity instead of gas and liquid products).
We know the data from the numerous remote sites feed operations centers and enterprise-scale data systems – such as the OSDU Data Platform.  It is exciting to see how the edge lab within the OSDU platform can accelerate the open, interoperable, and interconnected systems to reduce costs, improve operational resilience and productivity, and improve outcomes for the environment.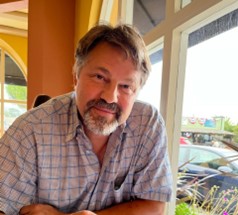 Dean Samara-Rubio is a Solution Architect at Intel Corporation and has been incubating technologies and defining solutions for the energy market since 2006 including specific programs in renewable energy, grid management, and upstream oil and gas automation and control.  As a contributor to the OSDU Forum since 2019, he has promoted the advancement of edge-to-cloud platform extension to bring an operational capability to the OSDU Data Platform.  Dean has a PhD in Electrical Engineering from the University of Texas at Austin in microelectronic materials and technology research.  Dean joined Intel in 1997 and was an early contributor to the Intel Silicon Photonics breakthroughs, worked on the development of Silicon-based MEMS, and other new business initiatives before turning his focus to the energy sector.