Start telling the world about your OSDU products and services today
Grow your business by reaching out to the market thought the OSDU catalog.
The OSDU catalog is a powerful channel to market your OSDU solutions and services. Let your audience know what you have to offer by showcasing it in the OSDU catalog.
Getting your application listed in the OSDU on-line catalog is an easy and straight forward process. After creating an account for your organization you can log-in to the catalog where you will see a clear overview of applications listed by your organization as well as the option to create a new application listing.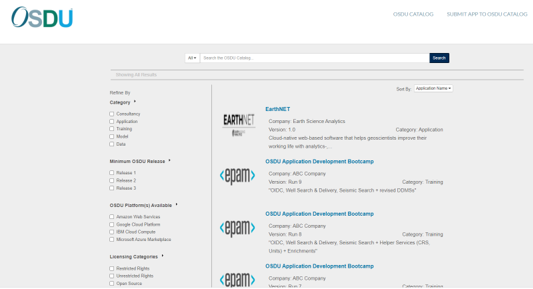 The process starts with entering the application name and selecting the main category after which you will be guided through a webform to enter further application details and some metadata to support the catalog search and filter functionality.
After submission of the registration form the data will be reviewed by the catalog administrator and set ready for you for publication.
Every organization will have a user dashboard providing a clear overview of your applications listed in the catalog and their status where you can also change or withdraw your application listing when required.