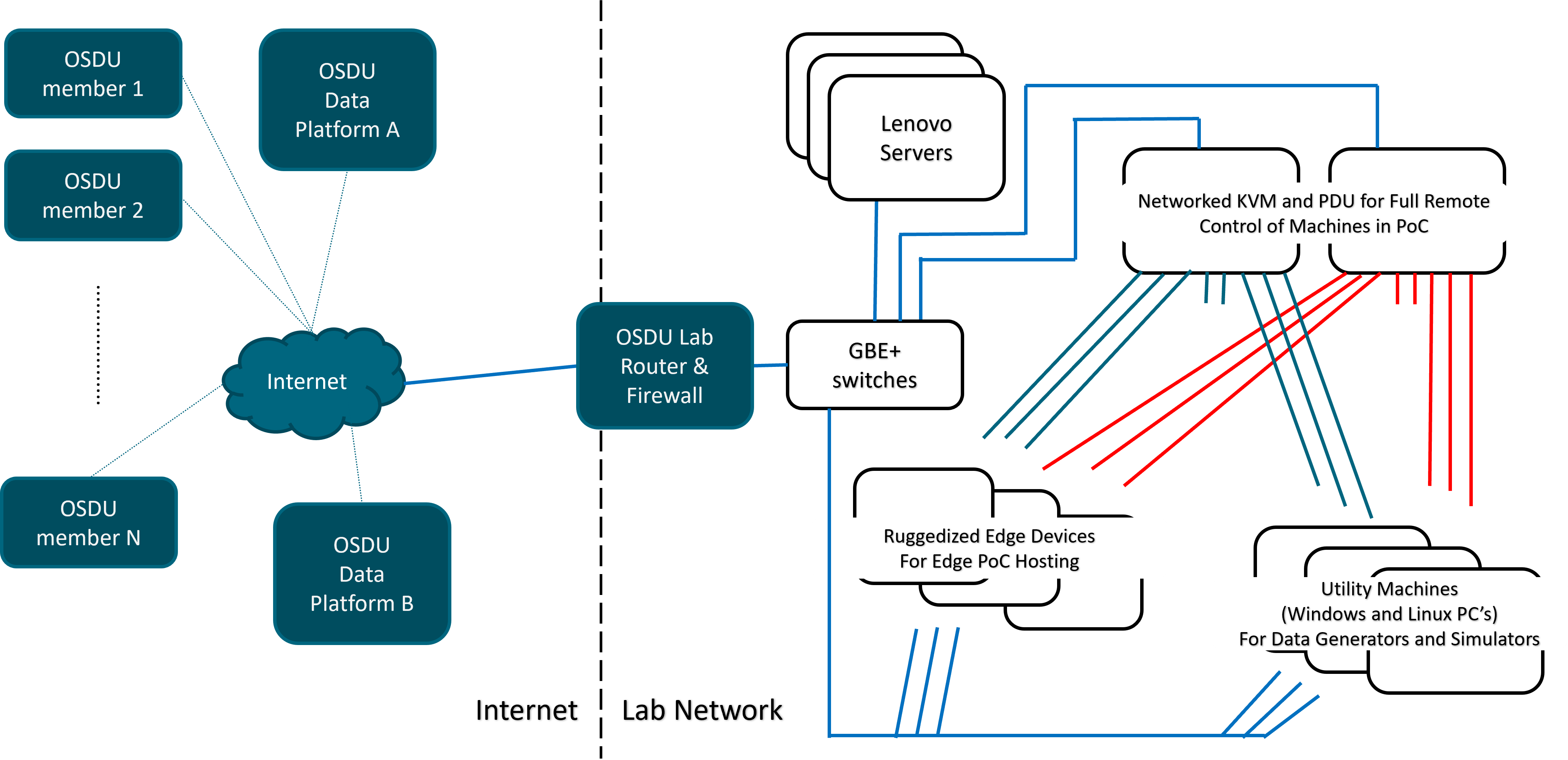 Types of Devices in the Lab Within the lab there are three groups of computing nodes for implementing your work.  The inventory of devices and the details of the lab configuration can be found on the Members' Gitlab.   Some of the nodes have been provided on loan or donated by vendors such as Axiomtek, Winmate, and OnLogic.  Others have been provided to the lab by Red Hat, Chevron, and Intel.  The community can make donations, suggestions, and requests so that additional nodes can be added in the future.
Lenovo Servers provide a space for on-premise software and tools to not only build and deploy your projects to the edge devices but to experiment with on-premise and edge supervisory control and data analytics use-cases.
Ruggedized Edge Devices are a range of commercially-available computers with options for the environmental specifications to be deployed to demanding locations, including extended temperature, sealed / passively-cooled , and hazardous location operation. These devices are the target platforms for the PoC workloads that OSDU members plan to deploy to the open edge environment(s).
Utility Machines are additional computers for general-purpose use including software for hosting data generation and data replay utilities to use during testing, for configuration, monitoring, and user-interface software that may is specific to a particular PoC. There are Windows-based and Linux-based machines available.
Remote Access and Control for the Lab Machines When building and testing your PoC you will have reserved resources (hardware devices and VM's on servers) for a period of time.  The Ruggedized Edge Devices and Utility Machines are connected to the networked KVM (keyboard video mouse) and PDU (power distribution unit) that together allow for access to the machines down to BIOS level as well as control and monitoring of the power supply.
Lab Networking Chevron has provided the managed network access into the lab and all lab machines are connected through gigabit and multi-gigabit ethernet switches.
Access for all OSDU Forum Members The lab team is working to provide secure remote access for OSDU members to access machines and ensuring secure connectivity to the OSDU Forum Core data platforms available in the community.   When you have machines reserved for a PoC, your project team can work in confidence to achieve your objectives and then allow others to have access to see, share, and potentially build-upon your work.